Of late, there has been a spate of print media ads that encourage readers to learn more about the advertised product by immediately serving up an online experience – so called "augmented reality" – on their mobile phones. Nokia N8 mobile phone and Godrej Interio"green" office furniture are two recent ads of this nature.

The convergence between the print and online media is enabled through QR (Quick Response) Code or another similar type of 2D barcode printed on the ad. The reader of the ad first sends an SMS to a prescribed shortcode number (ex: 56263), then visits the mobile website mentioned in the response via GPRS, and finally downloads a barcode reader application to their mobile phone. After installing the application, the reader clicks the QR Code using their mobile phone camera, and automatically lands on a website that provides the augmented reality experience.
This is a great example of blending high-tech with conventional print media advertising and has the potential to improve stickiness and foster deeper consumer engagement with the advertised brand / product.
At the same time, marketers and advertising agencies need to be mindful of whether the technology they're using really boosts the brand image and expands the market for the advertised product, or has the exactly opposite effect.
With the Nokia N8 ad, my SMS to the given shortcode never elicited a response even after several days. As a result, I wasn't able to view the online content. With my background in technology, I guess the failure must have been the result of heavy traffic or some other technical glitch. However, my takeaway as a potential buyer was, the Nokia N8 ad didn't work, maybe the product won't either.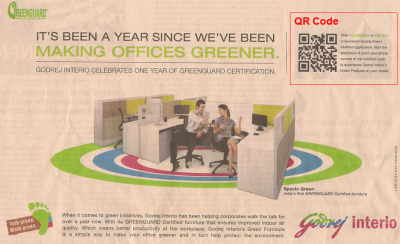 In the Godrej Interio example, I did get a response to my SMS. When I visited the resulting website to download the QR Code Reader, I was informed that my model of Nokia mobile phone didn't support the reader software. My first reaction? This is an ad for furniture, which is hardly a high-tech product. Why then does an ad for such an item preclude deeper engagement – and forsake a potential sale – by relying on an exclusionist technology that calls for an unnecessarily advanced model of mobile phone?
In the final analysis, I might buy a Nokia N8 or Godrej Interio furniture despite these ads, which begs the basic question: Why bother with such ads at all?